Home » Island News, Schools
Group hopes to bridge differences on LGBT issues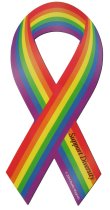 A few weeks ago I reported that some folks who oppose Alameda Unified's proposed LGBT lessons put up a website to air their views on it. Now, a group of folks who support the curriculum has posted their own website. And they're hoping its creation can mark the beginning of bridge-building efforts to folks who may not necessarily share their point of view.
The site was set up for a group called Community Alliance Resource for Education, which has been meeting to talk about how to support the proposed curriculum – and how to reach out to folks who may not.
"The lesbian gay bisexual transgendered community and their straight allies needed support and an information base. A place to share our ideas, dreams, concerns, upcoming events, and resources," said Anne Faria-Poynter, who has helped to put together the proposed curriculum and who built the site.
The site includes information and a link to a separate Yahoo discussion group for supporters of the proposed curriculum. It also lists information for the group's next meeting, which is from 6:30 p.m. to 8:30 p.m. Monday, April 20 at First Congregational Church United Church of Christ 1912 Central Avenue.
The Rev. Laura Rose said the group that put up the site has a six-member steering committee; she said its first meeting drew 50 people. She said the curriculum is supported by a broad base of folks, including Alameda's Social Services Human Relations Board (Girls Inc. of the Island City's board is slated to vote on whether to support this at its meeting tonight, and Executive Director Karen Kenney said she expects it to pass). And she's hoping the group can branch out to address a host of diversity issues here in town.
Incidentally, Friday is a national Day of Silence intended to address anti-gay name-calling, bullying and harrassment in schools. A "Breaking the Silence" event featuring a cast member from the original Broadway production of "Rent" follows at 5 p.m. Saturday at the Little Theatre on Central.